July 2015
Sponsors
Mission
Our mission is to promote ecologically friendly home building methods and practices, and to enhance our communities through leadership in sustainable development.
Statistics
Total homes certified since 2000:
15,648
Total homes certified in 2015:
461
Total BG member companies:
464
Helpful Links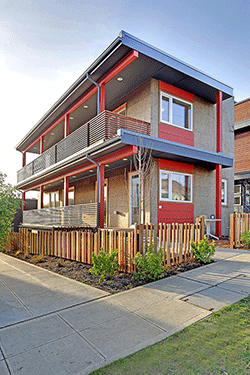 Dwell Development - Built Green 5-Star Single-Family Home
Verifier: Tadashi Shiga, Evergreen Certified
Dwell Development does it again, this time completing the first net-zero energy speculative home in the Seattle market. The Dwell Development team decided to take sustainable building to the next level with this project. The vigorous combination of Passive House standards, innovative recycled materials and solar technology helps the 1,711 square-foot home achieve net-zero energy usage.
View the full case study here.
Sustainable Cities Roundtable: Solarize and Streamline
July 9, Mercer Island Community & Event Center, Mercer Island
This Roundtable will explore Solarize campaigns as a strategy to galvanize support for renewables and move toward a clean energy future, as well as how cities can streamline solar permitting to increase adoption. In our region, Northwest SEED has been working in partnership with neighborhood organizations, utilities, cities, financing organizations, foundations and solar installers to promote group purchases of solar systems through Solarize campaigns. Find out more.
Greendrinks Summer Bash
July 14, Seattle Yacht Club Elliott Bay Outstation, Seattle
Attend this fantastic networking event where you'll enjoy food and drink from local companies. You'll also hear more about the edge3FUND from Kitsap Bank, an opportunity for a small local business to win $20,000! In addition, Saturna Capital will share an exciting growth story in sustainability-focused investment funds, which are a big driver of positive change. Additionally, Sustainable Business Consulting will tell us about current trends they see while serving clients from around the US and providing curricula for universities across the country. This event is co-hosted by Sustainable Seattle and Seattle Greendrinks along with partner Seattle 2030 District. Find out more.
YLG Third Thursday Happy Hour
July 16, Still Liquor, Seattle
You're invited to join the Urban Land Institute (ULI) Northwest Young Leaders Group in Seattle for our monthly happy hour. This is an informal happy hour for ULI members old and new to get together and talk about the latest happenings in the industry, reconnect with industry professionals, and build your network.
Find out more.
2015 Cascadia Regional Conference: Dynamics of a Rapidly Growing City
July 24-25, Melrose Market Studios, Seattle
Look forward to two full days of provocative discussion, exciting project tours and networking events in sunny Seattle. With an abundance of successful local companies, a thriving cultural scene and a wealth of natural beauty, Seattle is attracting new residents at a frenetic pace and continues to be one of America's fastest growing cities. This rapid growth has had an immense impact on the fabric of the city and has provided both exciting opportunities and serious challenges. Please join us as we explore the dynamics of our rapidly growing city.
Find out more.
The Good Wood Tour: FSC as a Green Building Solution
July 30, Various Locations
Save the date for this full-day tour to learn about the role of sustainable forestry products in green building. Hear from local experts regarding forestry practice, supply chain, innovative projects and how to be successful specifying and procuring FSC certified wood products on your next project. Tour stops will include institutional, residential, and industrial buildings and facilities that utilized over 85% FSC certified wood in their construction, and Tiger Mountain State Forest, where attendees will learn about FSC Principles and Criteria, which serve as a foundation for international forest management standards.
King County Golf Tournament
July 31, Willows Run, Redmond
Come on out to Willows Run Salmon-Safe certified course in Redmond. It'll be a great day of golfing with networking, sponsor activities, gifts and, of course, the closing banquet with the awards presentation and more prizes! Built Green will have a hole there, so be sure to say hi. Find out more.

Congratulations to:
Polygon Northwest Company for certifying 32 single-family townhomes and 48 multi-family apartments in Issaquah as 3-Star Built Green.
Isola Homes for certifying one single-family home in Seattle as 3-Star Built Green.
Top Floor Homes, LLC for certifying four single-family townhomes in Seattle as 4-Star Built Green.
Valentine Homes, LLC for certifying 13 single-family townhomes in Seattle as 4-Star Built Green.
RD Construction for certifying one single-family home in Kirkland as 4-Star Built Green and one single-family homes in Duvall as 4-Star Built Green.
Huber's Custom Building, Inc. for certifying four single-family townhomes in Seattle as 4-Star Built Green.
Beau Development for certifying four single-family homes in Seattle as 4-Star Built Green.
Sage Homes Northwest for certifying five single-family homes in Seattle as 4-Star Built Green.
Ichijo USA Co., Ltd. for certifying 35 single-family homes in Issaquah as 5-Star Built Green.
Fine Structures, Inc. for certifying two single-family townhomes in Seattle as 4-Star Built Green.
Triad Development, Inc. for certifying 75 multi-family apartments in Seattle as 4-Star Built Green.
Register for the Built Green Conference!
Registration is now open for the Built Green Conference on September 9! The day will include a keynote presentation, educational workshops, displays, plus a reception and awards ceremony, as well as networking breaks with the objective of educating about innovations in green building and sustainability. This year, the keynote presenter will be Joe Whitworth. Joe has been responsible for strategic direction of The Freshwater Trust for more than a decade. He focuses on the next generation of conservation tools at the intersection of technology and finance to get results on the ground. He is also the author of a forthcoming book with Island Press titled Quantified: Redefining Conservation for the Next Economy (September 2015). Register today!
Important Reminder: Certifications Under Old Single-Family Checklist Due Soon
On July 18, 2014, Built Green made the transition to the new statewide Single-Family/Townhome New Construction Certification Checklist. All projects enrolled prior to this date have the option of certifying under the old Single-Family/Townhome New Construction checklist here.
Under this enrollment, projects have until July 18, 2015 to be completed if they are being certified under the old checklist. If the final certification documents are not submitted by July 18th, 2015, the project will be required to use the new statewide Single-Family/Townhome Checklist. Please contact Built Green if you have any questions about this transition.
Show Off Your Great Green Project
Green Builder magazine is

looking for

the best green homes that include sustainable features, innovative design, whole home performance and integration with the natural environment.
The award categories are:
Mainstream Green: total project must be less than 3,500 sq. ft. (or 800 sq. ft. per occupant) with a HERS rating of 50 or better.
Alternative Building Technology: must include some type of alternative building technology, such as SIPs or ICFs.
General: custom, production, remodeling/restoration, community and multifamily projects are all eligible. Projects can be any size.
We know there are many Built Green homes out there that deserve the limelight! Deadline is July 24, 2015.

Learn more

.


Visit Built Green at the MBA King County Golf Tournament
We are really excited that this year's King County Golf Tournament, an MBA tradition, will be played at a Salmon-Safe certified course, Willows Run. Willows is not only a beautiful course, but is managed in a way that preserves and protects the area's aquatic habitat. Such responsibility is so important given that the course is located along the Sammamish River, used by both Chinook and Coho to reach their spawning grounds. Put a team together, play a round (stopping by Built Green's hole on the way), and enjoy the beautiful surroundings in the company of colleagues and friends. Find out more and register here!

Update: WaterSense® New Homes Incentive Program
The WaterSense New Homes Incentive Program that Built Green is offering in conjunction with Cascade Water Alliance still has rebates available, but move quickly! For more information on the incentive, and to see how you may be able to receive a rebate for building sustainably in Cascade's water service territory, click here. Only 50 rebates will be offered this year and 32 have already been claimed with projects underway. Don't miss your chance!

No classes scheduled for the month of July.
Do You Need a Space to Host an Event or Class?
Check out the zHome Stewardship Center. For more information or to reserve the space, please contact Ellen Cole at ecole@mbaks.com.
Are you a member of Built Green and the Master Builders Association? If so, your company is designated with a small, green tree on the Master Builders Association's website, which signifies you as a Built Green member. Your company is also listed on the Built Green website.
Welcome to our newest member companies!