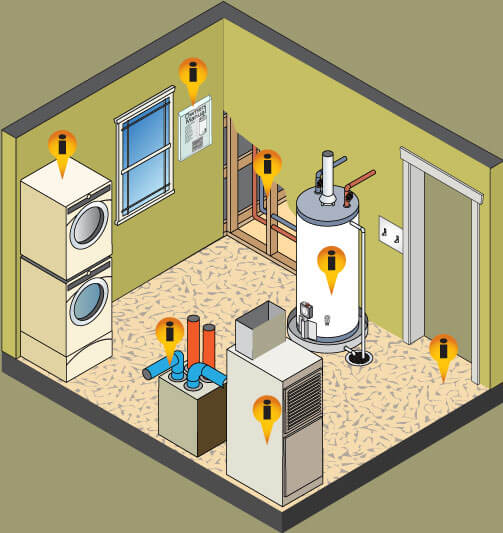 Utility Room Eco-Tips
Select the

icons to get remodeling tips for each area of the room.
Is your mechanical closet inside or outside the heated space of your house? Many mechanical rooms are half-in, half-out and present a major source of heat loss. There should be a continuous, insulated and airtight barrier between all heated and unheated spaces.
Check the walls of the closet for insulation. Look for fresh air grills that may be connected to the crawl space or attic.
If the closet is outside the heated space, ensure the water pipe, water tank and ductwork are insulated.
Heating and electrical systems
Energy savings
Washing machines and dryers
Other
Utility Room Flooring
Use hard surface flooring in laundry rooms and mechanical rooms.
Choose flooring products that can easily be maintained.
Choose flooring options that allow for partial replacement instead of whole-room replacement.
Consider healthier alternatives to vinyl flooring products such as Marmoleum.
Always use hard surface, water-resistant flooring such as protected wood, tile, or natural linoleum in areas prone to wetness such as laundry rooms and mechanical rooms.
View more Eco-Cool Remodel flooring resources
Ventilation
For well-sealed, well-insulated homes, install a heat recovery ventilator (HRV) to recover between 50-80 percent of heat exiting your home.
For homes built before 1991, upgrade to a whole house ventilation system as prescribed in the Washington State Ventilation and Indoor Air Quality Code.
Change your furnace air filter once a month during the heating season.
Choose MERV-8 filters, preferably approved by the American Lung Association.
Consider MERV 10 or MERV 13 filters for enhanced filtration, provided the furnace or other ventilation system can accommodate them.
View more Eco-Cool Remodel energy resources
Washer & Dryer
Washer
Check with your utility for rebates on efficient washing machines. Clothes washers are one of the largest indoor users of water in homes.
Wash with cold water – for items other than towels and sheets (these items require warmer water to kill properly remove allergens) conventional detergents perform well in any temperature water.
When replacing, pick an ENERGY STAR rated washer, or, for increased performance, a CEE Tier 2 or Tier 3 washer.
Position washer on lowest floor near the floor drain. If there is no fllor drain, place a catch basin under the washer or install a moisture sensor water shut off valve.
Keep washer door open when not in use to mitigate potential mold growth.
Dryer
Ensure your dryer is vented directly to the outside of your house.
When buying a new dryer, look for a moisture sensor with automatic shutoff, rather than just a timer.
Clean lint filter at each use for efficient dryer operation.
Switch to an energy-efficient clothes washer, many of which are front-loading. Front-loading machines save water and energy, are easier on your clothes, use less detergent, and allow your clothes to dry faster. Look for the ENERGY STAR label. New ENERGY STAR dryers spin clothes instead of relying on the dryer to heat the water out. CEE Tier 2 and Tier 3 provide additional performance advantages.
After each use, clean dryer lint filter and keep washer door open to mitigate potential mold growth.
Vent dryers to the outside. Choose a metal duct, preferably with a smooth interior, and use the shortest, most direct route possible to vent it to the outdoors. Secure the vent with metal tape only and/or mastic only; screws will snag lint and accelerate build up. For the same reason, remove any metal screen at the vent termination. Check to see there is a damper that closes to prevent cold air infiltration and insect entry when the dryer is not in use.
Check the inside of the duct twice a year (or as needed) for accumulated lint and to ensure that it has not come loose in the wall cavity, attic or crawl space. Lint build-up presents a fire hazard and could result in overheating and a shortened lifespan of the dryer. Failed vents also add moisture indoors or in crawl spaces and could foster mold growth. Gas heated dryers would also add carbon monoxide and other dangerous combustion gases into the home.
Use hot or warm water only for greasy clothes, diapers, and to sanitize linens well particularly if someone in the household is sick and potentially contagious. Detergents now work effectively with cold water for both wash and rinse cycles. Stick with liquid—instead of powder—detergents, which may cake up in colder water.
Seek alternatives to having a dryer vent with an indoor bypass, allowing dryer air into the house to capture the dryer heat. Such a system is dangerous because it adds moisture, fabric softener, and (in the case of gas dryers) combustion products to indoor air.
Locate washer on lowest floor near the floor drain. If there is no floor drain, place a catch basin under the washer or install a moisture sensored water-shut off valve. Another option for additional moisture control, is to ensure the water shut-off (1/4" turn throw valves are accessible). If water-shut off valves are not accessible, install steel-braided hoses for water supply and discharge.
Heating & Cooling
Install quality air filters and change regularly.
Service furnaces every one to two years.
Locate your heating and cooling system inside conditioned space.
If your furnace is more than 15 years old, consider a new ENERGY STAR high efficiency model.
Consider hiring a technician to check gas pipes for leaks, ductwork for asbestos, and evaluate changing heating fuel types.
Install the furnace or boiler in a central, well-insulated mechanical closet to save energy by reducing delivery distance and heat loss.
Locate your heating and cooling system inside conditioned space to take advantage of indoor temperatures; however if the furnace burns oil, gas or propane, it may be prudent to keep the heating system outside the conditioned space. This will further prevent spillage of exhaust gases into indoor air.
View more Eco-Cool Remodel energy resources
Hot Water
Keep your water heater set to 125-130 degrees Fahrenheit to mitigate the risk of scalding.
Insulate the water heater and pipes – especially the first five feet from the appliance.
Saving energy on water heating is strongly related to the flow rate of fixtures.
Consider an ENERGY STAR rated water heater; whether tank or tankless.
Have maintenance done on your water heater, per the manufacturer's recommendations.
If your hot water is not insulated, insulate it for more efficient performance.
****Consider alternative methods of hot water heating such as a:

Solar thermal system - roof mounted tubes circulating water, for space heating or hot water needs.
Sewer thermal system - harnesses the heat from waste water to offset boiler heating energy.

Install heat traps on cold inlet pipes at hot water storage tank.
View more Eco-Cool Remodel plumbing resources
Plumbing
If you find white, fabric-like insulation on your pipes it may contain asbestos, which presents a serious health hazard. Contact a professional for recommendations on how to abate the threat.
Use polyethylene (PE or PEX) piping for plumbing rather than polyvinyl chloride (PVC).
Insulate all water pipes whether they are in heated or unheated spaces with at least one inch (R4) of insulation.
Inspect exposed pipes in your home regularly for signs of deterioration, such as wall stains, drips, and corrosion.
Seal around edges of plumbing and electrical penetrations with non toxic/ low-VOC sealants
****Consider installing a greywater system which captures and filters waste water from sinks, clothes washers for reuse in toilet flusing.
View more Eco-Cool Remodel plumbing resources
Regular Maintenance Documents
Keep equipment user manuals
Keep a list of local service providers that offer regularly scheduled service and maintenance contracts to assure proper performance of equipment and the structure (e.g., HVAC, water heating equipment, sealants, caulks, gutter and downspout system, shower/tub surrounds, irrigation system, roof, plumbing)
Maintenance checklists, including instructions for:

maintaining gutters, downspouts, rain gardens and other infiltration devices and importance of diverting water at least five feet away from foundation
inspecting the building for termite infestation or other pests
practices to conserve water and energy